WZCC and WLQH combine their signals!
On December 1, 2010 WZCC AM 1240 Cross City and WLQH AM 940 Chiefland began simulcasting their programming. Simulcasting means sending the same programming over both stations. By simulcasting our programming we have more than doubled our coverage area!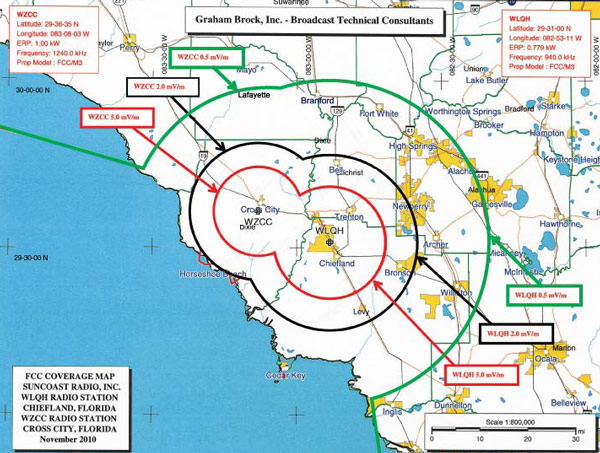 We have studied this area and it became very clear to us that the population and businesses centered along US19 between Cross City and Chiefland needed to be addressed as a whole, not as separate communities. People are constantly driving between Cross City, Old Town, Fanning Springs, and Chiefland to live, work, shop, and enjoy the recreational opportunities this area offers. Although each community was served by its own radio station, we felt that by combining the two stations we could better serve the entire area.

Current listeners of either radio station just need to add an extra preset button on their car or truck radio. Click 940 while in Chiefland and Levy County and click 1240 when in Cross City and Dixie County. Driving along US19? Just click on the button that gives you the strongest signal while remembering that the 940 signal will get stronger southbound the closer you get to Chiefland while the 1240 signal will get stronger as you go north toward Cross City.

Both stations have been playing rock and roll oldies so current listeners of either station will be happy to hear that we plan to keep the oldies music! WZCC has been broadcasting UF Gators Sports and NASCAR Sprint Cup races which will now be heard over WLQH too. Our goal is to provide a community radio station with more coverage of local events, public service announcements for qualified organizations, and hopefully next year- local high school football games!

Many local businesses have avoided radio advertising because of the high cost. We want to make radio advertising affordable again for local businesses with an introductory rate as low as $1.00 per thirty second ad. And these ads will be broadcast on both radio stations reaching a whole new audience of potential customers! Through membership in the local Chambers of Commerce and partnerships with local government, civic, business, and other media leaders we hope to promote our local businesses and help build our local economy.

To become the community's local radio station, we need input from the community. We welcome and encourage comments and suggestions on our programming from listeners, businesses, and community leaders. What do you want to hear on WZCC? What would encourage you to advertise on WZCC? How can our radio stations best serve our communities? You can email them to john@suncoastradio.com or call our office at 352-498-0304.

"Just the facts, Ma'am"
Who: We are Suncoast Radio, Inc. the new owner of WZCC-AM 1240. My name is John Elliott and with my wife Pat we purchased the radio station in February with the goal of creating a community radio station for Cross City and surrounding areas. I started in broadcasting in 1964 and like most DJ's always looked forward to the day when I would own my own radio station.
What: WZCC is an FCC licensed AM commercial broadcast station. We broadcast with 1000 watts day and night on our authorized frequency of 1240 khz. Our signal reaches all of Dixie County and extends into Levy, Gilchrist, Taylor, and Lafayette counties.
When: WZCC began broadcasting under Suncoast Radio on March 5, 2010. Prior to that the station had been off the air for nearly a year. Long time residents may remember the station as WDFL, WYNY, and other call signs under previous owners throughout the years.
Where: WZCC is licensed to Cross City, FL. Our studio is located in the Dixie County Advocate newspaper building at 174 NE 351 Highway in Cross City. Our tower is located on SW 351 Highway just outside the city limits. Suncoast Radio, Inc. is headquartered in Palm Harbor in Pinellas County.
Format: We are playing "The Music of Our Generation" which includes the greatests hits from 1955 through 1985. Our target demographic is adults 45+ who grew up listening to these songs. News and sports are from the Florida News Network. Soon we hope to offer NASCAR and this fall we will broadcast college, pro, and of course high school sports.
FAQs:
Will you ever have an FM signal?
Under previous owners there was an FM signal associated with this station but the FM station was sold off years ago. New FCC rules may allow us to have an FM signal at some time in the future but right now there are no unused frequencies allocated to Cross City.
AM stations do not sound as clear as FM stations, why?
The FCC requires AM stations to roll off the high frequencies which causes AM signals to sound "muddier" for lack of a better term. Try boosting the treble control on your radio to compensate which should brighten the sound.
What do you mean by "community radio"?
When the FCC deregulated broadcasting in the 1990's a handful of very large corporations starting buying up stations all across America, including the small locally owned stations in smaller towns. These were merged into what they called clusters mostly serving larger towns and surrounding areas. The small stations were no longer identified with their towns and services like public service announcements, local news and sports, disappeared. It is our goal to return community radio to Dixie County.