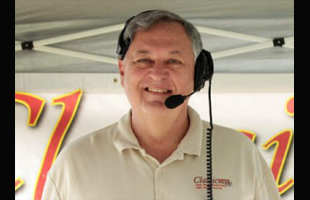 John Elliott
Station owner, engineer, and janitor John Elliott began his career in radio back in 1965 in Ohio and has worked at stations from Fall River, MA to Honolulu, HI, and Columbus, OH to Clearwater, FL. He even tried his hand on the small screen with small roles in Magnum PI, Hawaii 5-0 (the original, not the new one) and other shows filmed in Hawaii where he lived for 30 years. Always the entrepreneur, John decided to buy a radio station instead of a Porsche during his mid-life crisis! John is a licensed Paramedic, amateur radio operator and boater.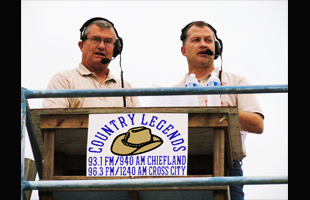 Ken & the Coach
Ken Hutson (R) and Coach Harry Hutson (L) are the voices behind our live coverage of Chiefland High School varsity football! Ken delivers the play by play and the Coach supplies commentary and analysis. We are proud to bring you live coverage of the entire Chiefland varsity football schedule both home and away each year, including the Spring and Fall Classic games. We have also had the opportunity to follow other local teams, the Dixie County Bears and the Trenton Tigers,when they made it to post season Championship play.
Mike Ridaught
Well known Gainesville sportscaster Mike Ridaught is the voice behind ThePrepZone.com Nature Coast Sports Report, a special edition of The Prep Zone radio program produced especially for Country Legends radio and focusing on local schools and sports in the Tri-County area. ThePrepZone.com Nature Coast Sports Report can be heard Monday, Wednesday, and Fridays at 7:28am and 5:28pm and is presented by Sunstate Federal Credit Union.